France is crowned by Rugby Europe U18s girls' team  sevens champions and as a result, the team qualifies for the Youth Olympic Games, which is going to take place in Buenos Aires later this year.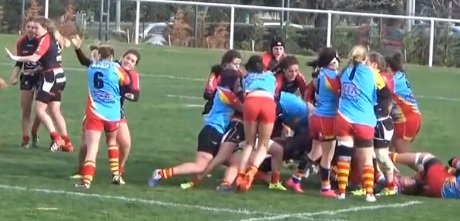 The future of French sevens rugby, women's team appears to be in bad health after the team of U18 were crowned the European champions on home soil in Vichy at the weekend. The team registered the superb 22-0 win over number one seeds Great Britain. This has also presented the opportunity for finest young players of France competing at the Youth Olympic Games in Buenos Aires. The competition is scheduled to take place in the month of October.
France becomes eligible for the multi-sport event. But the regional champions will only take their position in the six-team line-up incase their National Olympic Committee (NOC) designates rugby as its chosen team sport. This is because, under the rules of the International Olympic Committee, only one female team and one male team can attend the Youth Olympic Games from each nation.
Great Britain scored 181 points, while France scored 180 as both sides walked through to the final without yielding any points in reply. Under the leadership of Thomas Darracq and Clemence Gueucier, the French enjoyed the win of the big pool against Ukraine (54-0), Italy (22-0) and Germany (32-0) before seeing off Ireland and Portugal in the knockout stages.
Great Britain has victories over Georgia (52-0), Sweden (54-0) and Russia (31-0) to seal a place in the quarterfinals. In the last eight, they met in the Netherlands and won impressive 29-0 before registering the 15-0 semi-final win opposite Italy set up a final with France.
France weather the storm
While it is predicted that the final will be played between Great Britain and France, the final score-line would probably take the most followers of home supporters by surprise.